Planning Permission & Design Considerations for Conservatories
There are various things to take into consideration with any Conservatory, Garden Room, Sunroom, Garden Office design, planning permission is another area that should also be covered to ensure the development is fully permitted.
Conservatory Design ConsiderationsDo you need planning permission for a Conservatory
---
Planning Permission & Design Considerations for Conservatories
There are various things to take into consideration with any Conservatory, Garden Room, Sunroom, Garden Office design, planning permission is another area that should also be covered to ensure the development is fully permitted.
---
Additional Information about Conservatories
Orangeries UK also specialise in the construction and supply of high quality, bespoke, luxury conservatories designed to add a beautiful touch to any property. Our prestige design range features conservatories in many different styles including Victorian, Edwardian, Contemporary, Modern, Traditional, Classic and many more.
Our conservatories are made from premium hardwood materials, we typically manufacture conservatories from scratch using Sapele and Oak hardwoods. These timbers can be provided in a number of different stain and paint finishes to achieve the style you want.
You can customise your conservatory design any way you want and we'll manufacture and deliver it for you. We also have a team of installers who can assemble and install the conservatory for you. Our specialist team includes designers, layout planners, building specialists and more, so if you need a conservatory to fit within an awkward space, or you require a conservatory that's going to be an optimal fit for the available space then look no further.
If you would like some ideas or inspiration why not look at our Conservatory Gallery, you'll see some of the previous work we have done based on customer specifications, you'll also get to see our range of Edwardian, Victorian, Lean to, Gable Fronted and P Shaped conservatories once finished and installed on a property.
Our specialist team can help you take your vision of a perfect home conservatory and turn it into a reality. From creating a bespoke and distinctive design to creating the CAD drawings that take into account existing building design, planning permission and building regulations to manufacturing the product ready for delivery and installation, we can help every step of the way.
Some popular conservatory types include:
---
Edwardian Conservatories
An Edwardian conservatory usually follows a square or rectangular floor plan. The main thing distinguishing this type of conservatory from others is that the roof is of a "hipped" construction, where two angled hip rafters connect adjacent roof pitches which run at 90° to one another. Conservatories of the Edwardian era also often incorporated decorative flourishes such as finials and crestings to the roof, and coloured, leaded glass. All of these elements can be replicated in our conservatory range if desired, but equally the design can be kept simple and understated for a more contemporary look.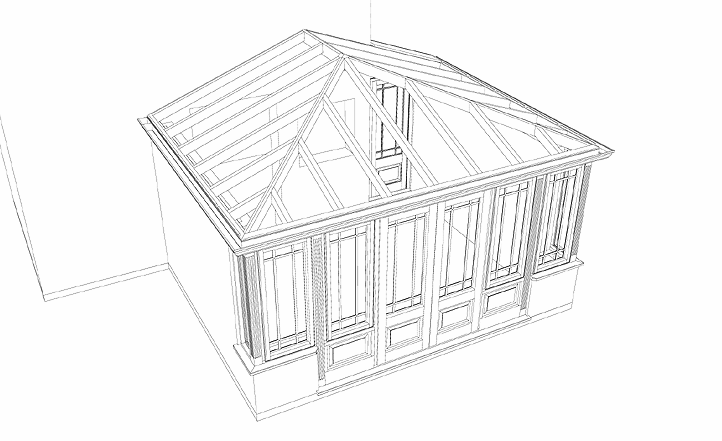 ---
Victorian Conservatories
A Victorian conservatory usually follows a "rounded" floor plan, with an angled bay window at the end. This is also typically what you would see on the extending part of a "P-shaped" conservatory, with the longer part of the building being a "lean to" structure (see below). The roof above the bay window section will incorporate several pitched panes of glass at angles (typically 135°) to each other, with angled hip rafters connecting the adjacent pitches. Victorian style conservatories are great for adding a "classic" feel to a property. They are also roomy, bright and can significantly increase available space within a property.
---
Lean-to
A lean-to conservatory will generally follow a square or rectangular floor plan. The roof will be of a single pitch, with glass or brick gables at the sides, creating the impression that the roof is leaning against the existing building for support. These are a popular and simple choice and are probably the most cost-effective way to add a conservatory extension to your home. There are some limitations in that with this design of building it is difficult to achieve projections greater than around four metres, as the larger the projection, the longer the glass units and rafters in the roof need to be, and there are limits on the lengths and sizes of timbers available.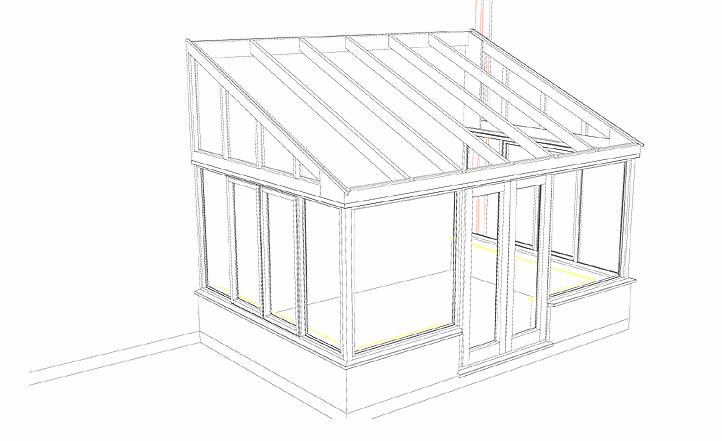 ---
Gable-Fronted
A gable-fronted conservatory will also generally follow a square or rectangular floor plan, similar to an Edwardian conservatory, except that with a gable-fronted conservatory instead of a third pitched roof section at the front, there are two pitched sections down the sides, with a vertical triangular gable frame at the front of the building. The gable frame can be a simple triangular frame with a few supporting mullions, or it can be a grand and elegant feature incorporating "cartwheel" or "sunburst" designs, arches, leaded and coloured glass and more. A gable-fronted design provides an opportunity to create something special and unique which will set your building apart and add spectacle to your home.
---
Lantern Roof Conservatories
A Lantern roof conservatory is one where there is a roof of one of the styles listed above, but with a separate vertical framing section within the roof structure. These look like the top part of the roof has been cut off and elevated higher, with vertical glass framing between the two main pitched roof sections. This design really created a grand and impressive structure suited to the most elegant homes.
---
Special Features and Other Designs
All of our conservatory styles can incorporate special features as optional extras, including leaded and coloured glazing, applied glazing bars including arches, circles or any other designs, roof crestings, finials and pendants, fluted posts, decorative pilasters, roof mouldings, additional trims, quadrants and mouldings and more. It is also possible to combine several of the above conservatory styles. For example, you could have a "P-shaped" conservatory where the main length of the building is a Lean-to, with one end projecting further from the house with a Victorian style bay. With our sophisticated modern design techniques we can manufacture almost any shape of conservatory, including "T-shaped", "X-shaped", conservatories which link one building to another, and conservatories which fit into tight and awkward spaces. Speak to one of our team today for further guidance. Please note that we also manufacture kitchen conservatories which are suitable for complete kitchen installations (plumbing / electrics / heating).