Why choose a conservatory?
Market research has shown that modern consumers want to be able to enjoy their high quality timber conservatories year-round. This means that they need to be suitable for use in the depths of winter, not just the summer months. So as well as being a stylish addition to your home, your wooden conservatory needs to be manufactured from durable materials.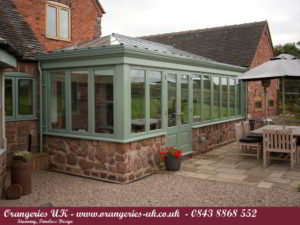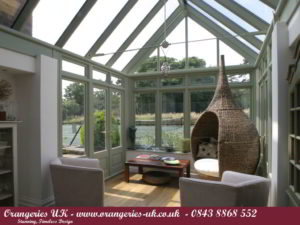 Furthermore, consumers want the space to be used (and enjoyed) as a functional, light-filled living space. Of course, this has changed over time. Years and years ago, conservatories, like orangeries were rooms designed and used to grow plants and vegetables. But now we use them as an extension of our living space because they can be manufactured from durable materials that ensure our comfort all year long.
At Orangeries UK, we design our hardwood conservatories with both style and practicality in mind. With bespoke design features, decorative glass, and crafted from durable, energy-efficient materials, we're able to create a warm, inviting space that holds heat in the winter. We combine machines, market-leading methods of construction and expert craftsmanship, to always build the best high quality timber conservatories we can. Everything is made-to-measure and tailored to your bespoke specifications.
We can also integrate features like stained coloured frames, bifold opening doors and self-cleaning glass. The options are endless. Talk to us today to find out how you can customise your wooden conservatory.
---
About Our Timber Conservatories
Timber Vs. uPVC and Aluminium
While materials like uPVC and aluminium certainly can be used in the construction of conservatories, wooden conservatories – especially those made from high quality timber – have a number of benefits. This natural wood is stylish, durable and timeless, resulting in a traditional style conservatory. Timber is a beautiful wood that can be easily crafted into many stunning styles. And, while aesthetics are valuable, it's important to note that timber is a renewable and environmentally-friendly resource. The cost of processing timber is low compared to that of aluminium and uPVC. To produce these materials mining and heat or chemical-based processing is required. All of this results in harmful Carbon Dioxide (CO2) being released into the atmosphere. All of our timber is sourced from sustainable forests and is FSC certified.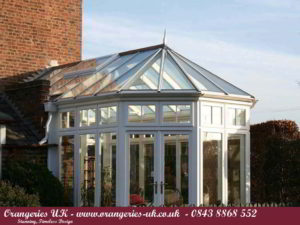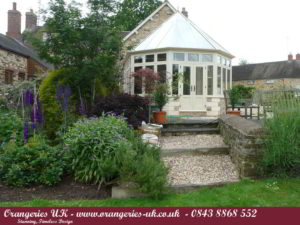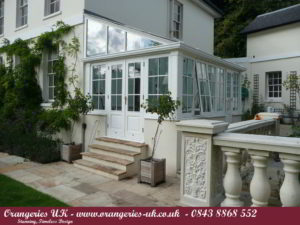 Another reason timber has been used in construction for thousands of years is due to its thermal properties. Wood naturally retains heat, making it an especially great choice for those wanting to enjoy their conservatory year-round.
In general, aluminium and uPVC systems are best-suited for 'standard' designs. They aren't easily adapted and are cut to length. Their shapes tend to be square and consistent, making them very difficult to work with when the design calls for intricate or unusual details. On the other hand, it is very easy to adapt and design our timber conservatory system to fit in difficult spaces. Uneven brick or stonework? No problem. One-off details? Yep. Curved windows? You bet.
If you want a traditional style structure that beautifully displays top-notch craftsmanship and is durable, a timber conservatory is for you.
---
Roof Systems for Timber Conservatories
When building a hardwood conservatory, we always integrate a smart roof system. In doing so, we consider both design and function.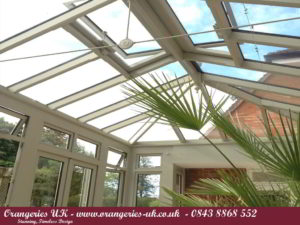 Our roof systems are particularly versatile because we can cut and machine all of our components to suit a particular project. As we mentioned, with aluminium and uPVC systems, this is difficult to do.
Let's use a "Victorian" style roof with a Bayfront window and three walls at 45° angles to each other.
This design requires a number of roof hips and rafters which join at a common point at the end of the ridge. The only way for plastic and aluminium systems to accommodate this detail on the outside of a glass roof is to have a large "one-size-fits-all" plastic dome that sits on top of the roof at the junction of the hips and rafters. This detail can be very large and unsightly.
With a Victorian timber conservatory, we manufacture a custom decorative "roof boss" (an angled, often octagonal, component that sits at the junction of the hips). It eliminates the need for any unsightly fixing details. The result? A bespoke conservatory that's beautifully constructed.
---
Types of Hardwood Finishes For Bespoke Conservatory Frames
When building a timber conservatory, we can finish your structure in any solid colour of your choice. We can also finish your structure with a translucent stain to ensure the natural grain of the wood is visible if you prefer. We use trusted names including RAL, BS, Dulux, Farrow & Ball, and Little Greene. The point is, our wooden conservatories are bespoke, to fit in with your home and your decor.
This isn't possible when building an aluminium or uPVC conservatory. These materials are coloured, coated or painted in very large batches and are limited to a small range of set colours. Oftentimes, there's a very large extra charge for requests of a one-off colour. Or otherwise incur substantial extra charges when requesting a one-off colour.
Other than choosing a timber base for a conservatory, you may also want to look at other types of hardwood materials including:
---
Iroko
A cost-effective alternative to teak, Iroko has a similar grain and is a popular choice for period properties. From Africa, Iroko can be yellow to golden in tone or even a slightly darker shade of medium brown. The grain of this wood is medium to coarse, and, while it is durable once finished, the raw material is very workable allowing for intricate designs.
---
Sapele
This luxurious African hardwood is another popular choice. While it's more commonly used in internal applications rather than external, it can be used in the construction of wooden conservatories. The wood has a reddish tinge and an interlocked grain with a pleasant texture that shines with a polished finish. As this wood reacts negatively when coming into direct contact with iron, we recommend pairing t with different metals when joining.
---
Idigbo
Idigbo is an attractive, popular, medium hardwood with excellent durability and weather resistance. It looks premium and can be styled to look like oak. The African Idigbo most commonly comes in a yellowish brown hue with a fairly straight grain to give it a timeless appearance. We can stain and polish this wood to create a colourful finished conservatory.
---
Mahogany
For a truly timeless, stunning conservatory, we recommend Mahogany. This dark-hued wood tends to be a more expensive, upmarket option but it adds a premium touch to a conservatory frame. Due to the straight grain pattern, Mahogany is a highly durable wood that holds up well against the elements.
---
Meranti
Indigenous to Malaysia, Meranti is dark, reddish wood that again provides an upscale finish. This wood has a coarse yet even texture. The wavy grain is interlocked, which can be showcased beautifully with the application of a resin or finishing stain.
---
Why Choose Us?
Why browse ready-made low quality wooden conservatories for sale when you can enquire after a bespoke design hardwood conservatory from Orangeries UK?
All of our high quality timber conservatories come fully-finished as standard, meaning a full coating of paint is not required on-site after installation. We run our own paint facilities within our workshop, giving all timber frames and components one spray coating of base coat, and two spray coatings of topcoat to ensure a smooth, even finish and exceptional durability. All timber paint used is water-based and microporous to ensure that the finish works with the timber, allowing it to breathe and preventing many of the problems experienced with oil-based gloss paints such as flaking and peeling.
A timber conservatory will also last for many years. If properly maintained, a timber conservatory will last much longer than an aluminium or uPVC structure. It can actually end up costing less when viewed over a period of 15-20 years or more. Timber is the most traditional, desirable and durable material for a conservatory and it will almost certainly add value and beauty to your home.