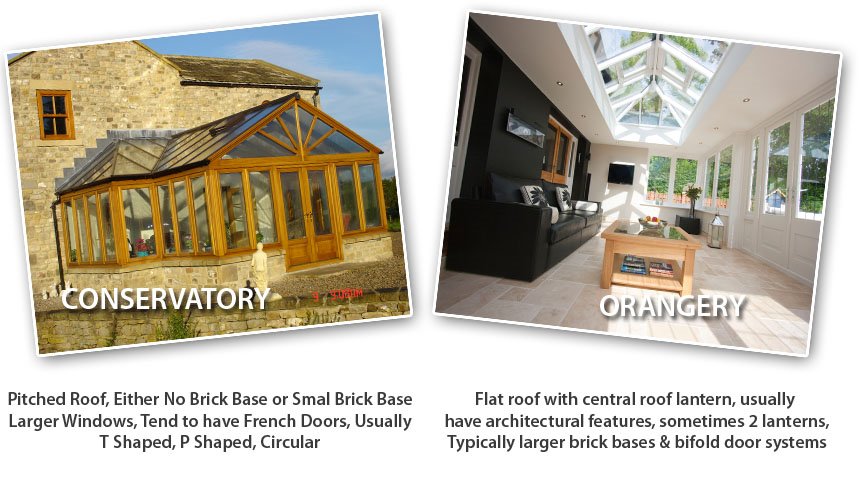 ---
What are the differences between an Orangery and a Conservatory?
The main differences between an Orangery and a Conservatory are the base and the roof. Orangeries typically have a brick base and a flat perimeter roof with a centralised roof lantern whilst conservatories typically have a centralised pitched roof and a frame construction that goes from the ground directly up to the pitched roof edge with no perimeter.
---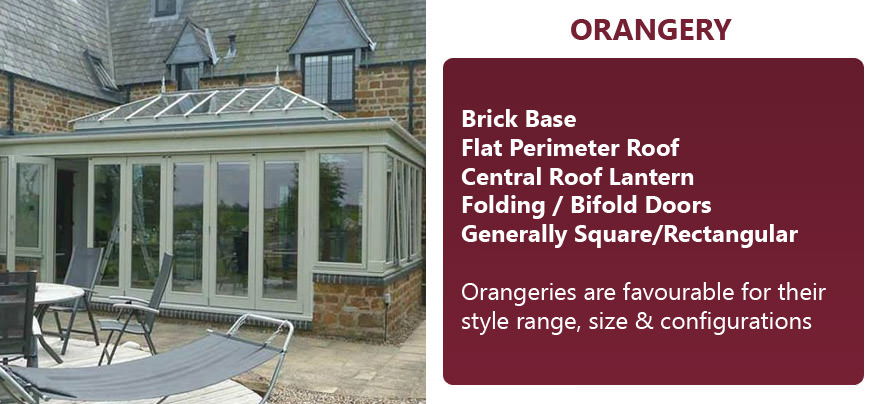 ---
What is an Orangery?
An orangery is a room (extension) with a brick base (and sometimes brick walls), flat perimeter roof & central roof lantern with windows & doors.
See what Orangeries look like by looking at our Orangery Gallery.
---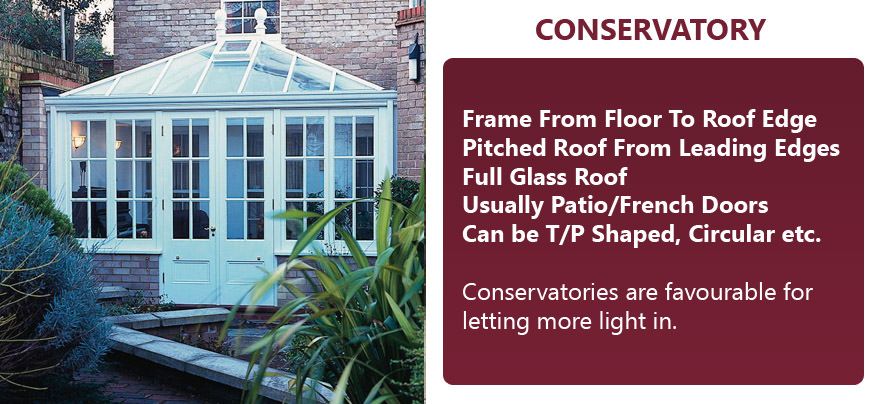 ---
What is a Conservatory?
A conservatory is a glass room with a pitched roof that usually connects to a house from one wall.
See what Conservatories look like by looking at our Pictures of Conservatories
---
Orangeries
Orangeries (Orangerie or Orangery) originated in the 17th century, to be used as a place to shelter citrus trees through the winter. In the 21st century, orangeries and conservatories are both used for very similar purposes – they are usually built as an extension to a home and they provide bright and elegant extra living space.
Orangeries date back as far as the 17th Century. Between the 17th and 19th Century Orangeries were typically found on wealthy estates & high-value properties. They were fashionable amongst the wealthy elite and were often used to grow and cultivate citrus trees that require lots of warmth and light to grow.
On the approach into the 20th century as international travel and cargo shipping made for a much cheaper way for people to get citrus fruits Orangery structures were used more and more for living space as well as places to growth other plants and vegetables.
Orangeries originate from Italy and were modernised by architectural developments from Holland.
---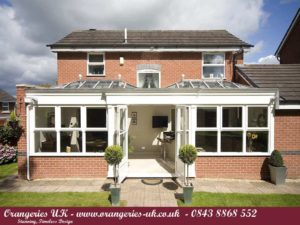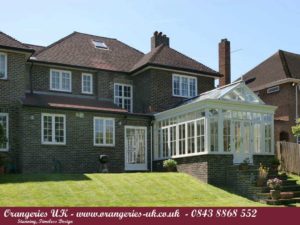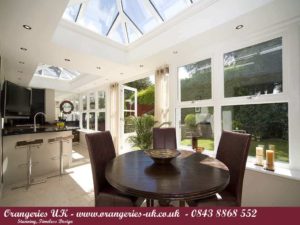 ---
Conservatories
Conservatories evolved from the principles of an Orangery structure offering different qualities in relation to heat & light which gave them a different purpose.
Conservatory structures typically incorporate larger glass panels with less framework / brickwork to maximise the amount of light that can enter.
Conservatory frames minimise the architectural components required to hold all of the glass panels together meaning that they can allow far more natural light in over an Orangery.
Conservatories typically connect to a property with a single adjoining wall which is typically the wall that the conservatory roof with slope towards.
Modern conservatories are manufactured using UPVC which has allowed for much cheaper manufacturing and supply costs. More affluent property owners will tend to choose Wood over UPVC for it's visual and aesthetic properties.
---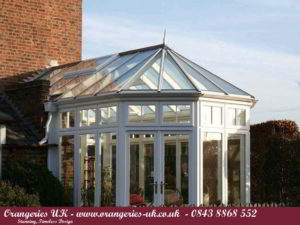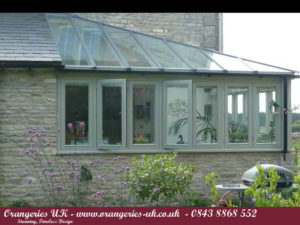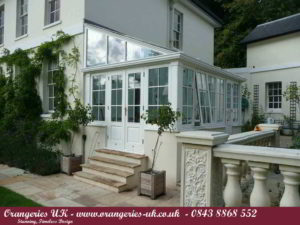 ---
The Construction
Orangeries & Conservatories have similarities in their construction in that they will be built on a solid concrete foundation and will typically incorporate some form of a brick base.
A conservatory frame will run from the footing to the leading edge of the pitched roof. The glass panel sizes for conservatories tend to be larger.
An Orangery frame will typically incorporate brick pillars or shorter wooden pillars up to support a flat roof perimeter. Orangeries typically have a perimeter flat roof with a central roof lantern that will feature glass panels / vent windows etc.
Conservatories tend to use patio/french doors whilst Orangeries tend to use Bifold Doors / Folding Door systems
Both Orangeries and Conservatories will use double / triple glazed window units to maximise energy efficiency. Some older atrium style Orangeries may use single glazed units.
---
Construction Materials
Conservatories are most popular in uPVC due to their low cost to manufacture, supply and install. Orangeries are most popular in Timber but are also available in Oak, Pine or uPVC.
Other manufacture materials include Aluminium which is often capped with another material to keep a pleasant visual aesthetic.
Brick bases are standard on top of a solid concrete foundation. Any additional foundation support will depend on the land surrounding the property and its stability.
---
The Roofs and Natural Light
Due to the nature of Conservatory roofs, natural lighting is more plentiful vs. an Orangery. Conservatory roofs are supported by minimalistic framework which allows for larger glass panels. However, Orangery roofs offer the benefit of better artificial lighting which at night time offers a benefit over a conservatory. Orangeries typically have electrical wiring and downlighting installation within the flat roof perimeter.
Overall, a conservatory will offer more day to day natural light (depending on the location of installation and whether there is any obstruction to natural light during the day).
Orangeries will offer a good volume of natural light but will also offer superior night time lighting over a conservatory. It is important to understand the advantages of natural light vs. artificial light when making your decision.
---
Costs
Orangeries tend to be more expensive over Conservatories due to the size, style and construction involved. Conservatories can start from as little as £5000 from smaller independent conservatory companies. Wooden conservatories can start from £10,000 but expect to pay more per sq. ft over UPVC. Conservatory Costs in the UK typically start from £10,000.
Hardwood Orangeries can start from £7995 and range up to £100,000 plus depending on style. More decadent Orangeries can cost £50,000 – £100,000+.
To give an idea, a basic 4m x 4m Orangery in a basic finish could cost around £20,000. In the UK standard Orangery Costs are around £19,000.
The cost is entirely dependent on the size, choice of materials, styles, features & more.
---
The Difference Between Residential & Commercial Orangeries
Orangeries aren't just extensions for your home, they are also used as commercial premises. There are various types of commercial use including Orangery restaurants as well as the Orangery Kensington Palace or the Versailles which is the Largest Orangery in Europe. Some companies operate their businesses from Orangery structures for a variety of reasons from lighting to brand image. We also supply Orangeries to commercial businesses such as restaurants, dining venues, pubs and more.
---
What does an Orangery look like?
An Orangery looks like a Conservatory except for the brick base, shorter upstanding frame and a flat roof perimeter with central roof lantern.
---
What's the difference?
An orangery is a structure similar to that of a conservatory – both will have incorporate a large proportion of glazing in the side of the structure, with a glazed roof element which lets light and warmth into the room. The main difference between the two is that with a conservatory the roof is connected directly to, and begins sloping upwards from the side framing, whereas in an orangery there will be a flat roof element with a separate glazed lantern roof (or multiple separate glazed roofs) in the middle. Both orangeries and conservatories may incorporate brickwork piers or side walls, but it is more common for these to be a significant element of the structure within an orangery. The internal ceiling of an orangery is usually plastered with lights fitted, which makes the inside feel much more like another room of your house than a conservatory – ideal for a kitchen or lounge extension, or for an elegant dining area with a view of your garden. The ease of installing lighting within an orangery, combined with the greater insulation provided by the flat roof and any walling make an orangery a more liveable space throughout the cold and dark winter months than a comparable conservatory.
With the right design, an orangery will look like it has always been a part of your home. Our modern design and manufacturing techniques mean you can customise your design to make a unique and perfect fit, just for you. It's possible to change the size and shape, frame types, decorative glazing bars, timber species, colour and much more. Please speak to a member of our team and they will be able to offer guidance of all of your options and provide answers to any further design or development-related questions that you may have.
---
Are Orangeries Energy Efficient?
Yes, in fact they can be more energy-efficient than a regular extension since they allow more light to enter, and much like a greenhouse this will help to heat the room in the winter months. We always recommend having an optional opening roof vent (effectively an opening window at the top of the roof pitch) which will allow you to control the climate of your new orangery for a comfortable temperature all year round. There are also options such as solar-control glass which blocks much of the UV-light and most of the heat from the sun along with it, which can be useful for South-facing buildings, to stop them from overheating.
---
Can I customise all design and style aspects?
Yes, you can customise lots of different aspects of your Orangery choice / project, everything from its size (Dimensions) to its purpose, wood style & grain, frame type and much much more. If you speak to a member of our team they can provide answers to any further design or development-related questions that you may have.