Choosing a Period Conservatory
"Period conservatories offer historic design peppered with modern features."
The features of a period conservatory are what draw most of us to them (for everyone else there's a modern conservatory). But which features belong to which period? When should you include curved glazing bars? Which period's conservatory has an ornamental ridge line? And can you personalise a period conservatory? 
---
Choosing a period conservatory
When it comes to choosing a period conservatory, many of us know that we would like a classic conservatory with an elegant appearance, but the fundamental differences between the types of period conservatories aren't always apparent.
Orangeries UK have a dedicated team of designers ready and waiting to guide you through the exact architectural eras and what you can expect from each style of period conservatory. No matter which period conservatory you opt to go with, you will get an extension to your home that not only complements your existing architecture, but adds value too. 
But before you make your choice, to help you decide which period conservatory you might like, here's a rough guide about each period conservatory – Georgian, Victorian and Edwardian, including the differences between them, and how you can make them your own:
---
Georgian Conservatories
For many people, Georgian properties with their classical symmetry and proportions are the stereotypical English house. Georgian architecture dates back to the Georgian period (1714-1830), when they used ratios to achieve the perfect positioning for a window's height, based on its width. This architectural principle carried through to their conservatories, meaning Georgian conservatories tend to have a grand, symmetrical appearance. They often have a square or rectangular base and high, sloping roofs that allow a greater amount of sunlight to flood into the interior. Georgian conservatories also feature ornamental elements like curved glazing bars and large cornices (decorative ledges) for extra elegance and grandeur.
The structure of a Georgian conservatory is usually built on a square or rectangular space and is made up of large, symmetrical single windows in a "six over six" pane configuration. While Georgian conservatories tend to be constructed with many smaller glass panes, rather than one larger pane, how you prefer your glass sections to be put together is ultimately your decision. Having less, but larger glass sections, as opposed to more, smaller glass sections, doesn't prevent the conservatory from being a Georgian design. 
And just because the design of your conservatory is Georgian, doesn't mean the glass can't be modern. Why not opt for double or even triple glazing in your roof, or how about argon filled glass units to improve the room's thermal efficiency, or solar control glass? Or how about installing self-cleaning glass to save you a job? And don't forget to include vents to aid in venting the room.
The most traditional Georgian conservatories have a 4-slope roof and gable front (which is, ultimately, a triangular wall section located between two roof slopes). A 4-sided roof is a better roof option for a wide conservatory, but if you'd prefer, you can opt for a 3-sided roof. The 3-sided roof is still Georgian in design, it simply comes down to personal preference at the end of the day. 
You can also personalise your Georgian conservatory with your choice of colour. The timber frame of a Georgian conservatory makes it easy to paint it whatever colour you would like and while white is more in keeping with the period, that doesn't mean you can't inject a dash of individuality into your Georgian conservatory, if you want to. 
---
Victorian Conservatories
Victorian conservatories are the most popular type of conservatory and include a wide range of architectural styles reminiscent of the period, most notably high roofs and a rounded appearance. Architecture of the Victorian period (1837-1901) was characterised by different style features, including influences from the Middle-East and Asia. As a result, Victorian conservatories are versatile and suit many different types of properties, both rural and urban. 

A typical Victorian conservatory might have a bay front with a vaulted roof with an ornamental ridge line. Because Victorian conservatories tend to be more ornate in their design, such was the preference of the era, they don't tend to suit smaller designs, though don't let that put you off if you have your heart set on one. 

Victorian conservatories have wider glass panes than those used during the Georgian era. This is because, during the Victorian period there were vast improvements made in the production of glass that led to glass sheets becoming much larger. And while the Victorian conservatory can be built with full glass walls, it's common to have dwarf brick walls as a base to add a more solid feel to the room. 

Because Victorian conservatories come in a wide range of styles, you can easily personalise yours without taking away from the inherent design. For example, you could have a P-shaped design combined with a lean-to design to create a bespoke conservatory design. Or you could install a roof lantern as a decorative feature, something that would complement the Victorian design. 

You could also personalise your Victorian conservatory with your door choice – you could have a French door or bifold doors, both work equally well with this design. However, bear in mind bifold doors, due to their sizable nature, tend to lend themselves more favourably to a larger conservatory, but again, don't let that put you off. 

---
Edwardian Conservatories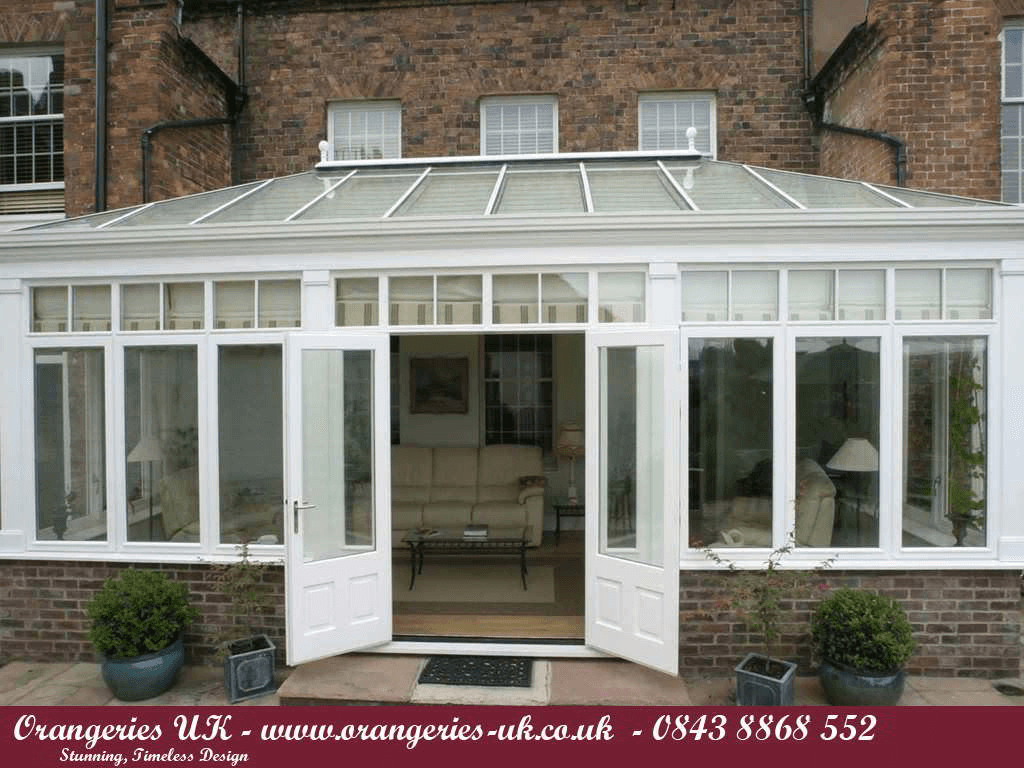 The Edwardian conservatory is considered a follow up to the Victorian design, and by the Edwardian period (1901-1914) conservatories were extremely popular. Edwardian conservatories, like in the Georgian period, had a square or rectangular base, however by now the preference was for less ornate features and a less fussy design, with simple, clean lines and a regular shape.
Because the key difference between an Edwardian conservatory compared to a Victorian or Georgian conservatory is its simplistic design. As a result, an Edwardian conservatory is suitable for both small and open spaces.
Edwardian conservatories have bold features like fanlights (also known as clerestory windows), which are a small row of windows at the top of the side framing that may or may not open.
The simple nature of the Edwardian conservatory is reflected in the roof's appearance – it's a stark contrast to the stylistic, ornate nature of the Victorian conservatory. The aim with the Edwardian conservatory was to allow as much of the outside in as possible, including natural light, and to not detract from nature's beauty with a fancy designed conservatory, that might block the view. 
Saying that, you can still construct an Edwardian conservatory with a dwarf brick wall if you prefer. And when choosing doors, smaller Edwardian conservatories suit French doors, whereas larger ones work well with bifold doors.
---
Choosing the right period conservatory for you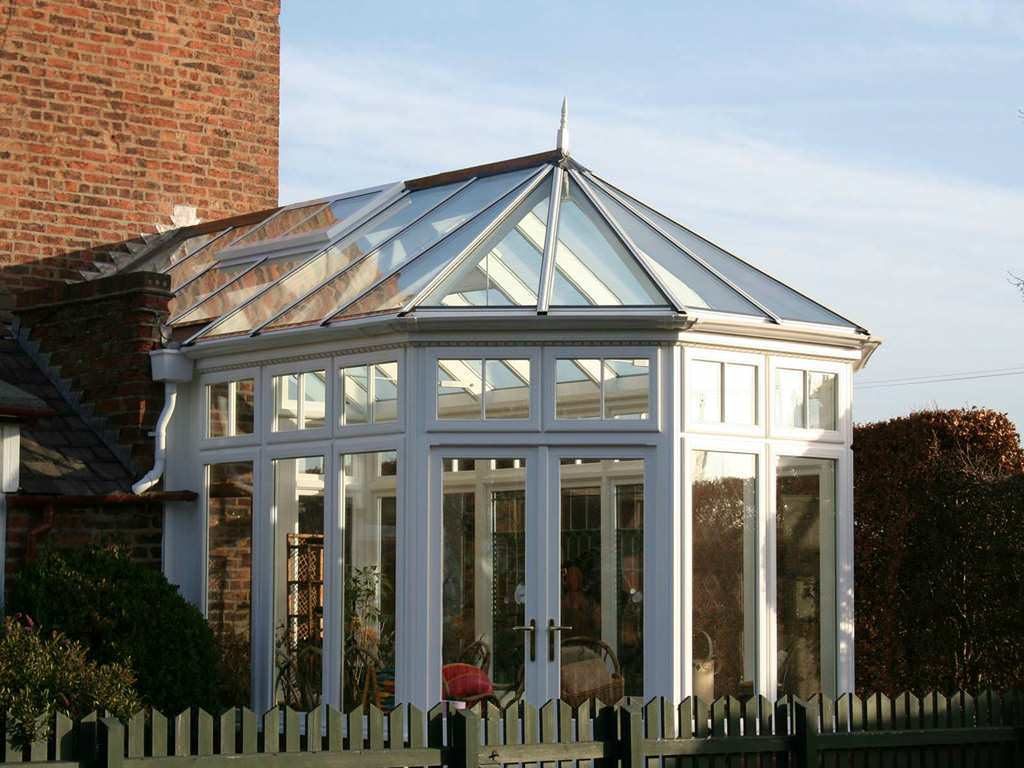 When it comes to choosing which period conservatory you would like, the choice is purely down to personal preference, because a period conservatory will look good and can suit any property (within reason). 
A few points to consider when choosing which period conservatory would work best for your home and your family are:
-How you intend to use this extension to your home
-What your home's existing aesthetics are
If you need any further advice on period conservatories, contact Orangeries UK on 0333 335 5051.