6 Ways To Finance Your Orangery Or Conservatory
When it comes to adding value on to a property, home extensions are one of the smartest ways you can achieve this. By creating more space through building an extension – an orangery or a conservatory, you can instantly see an uplift in value. 
But an extension can be costly outlay initially. However with the help of our handy cost calculator tool, you can estimate the cost of installing your dream extension before you contact us and commit to anything. 
You can decide whether you want an orangery, a conservatory or garden room. Whether you want it painted, primer only or stained. If you would like it with or without a roof lantern. With French doors, bifold doors or bespoke doors. Whether you want to install it yourself or pay for installation. We can give you a pretty accurate quote upfront so you can plan how you're going to finance your orangery or conservatory, without worrying about going over budget. 
There are a number of ways you can fund your home improvement, and how you do it will depend on your specific personal circumstances. 
Below are 6 ways you could consider financing your extension.
---
#1. Increase your mortgage. 
You can borrow against your home and increase your existing mortgage to fund your orangery project. This finance route involves speaking to your current lender and borrowing more money to pay for your extension. 
Choosing this finance route is a low cost way of borrowing money and the repayments are spread over a long time, typically the length of a regular mortgage (25 years). And with interest rates at an all time low, now has never been so good for borrowers. 
But this isn't the only way to finance your extension, and it isn't an option that is open to everyone. 
---
#2. Remortgage 
Remortgaging is when you switch providers and transfer your mortgage from one lender to another. This is usually done when you need to raise further cash and you're prepared to commit to a longer term of borrowing. 
The benefit of remortgaging is that you can ordinarily raise the money you need pretty quickly. The downside of this finance option is that you are increasing your level of debt and borrowing against your home, so if you fail to meet your repayment responsibilities, you're at risk of losing your house, should it be repossessed by your provider. 
---
#3. A second mortgage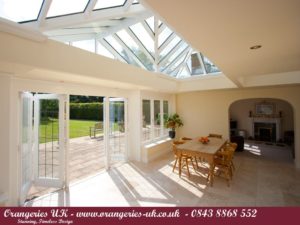 This might be an option if you have an existing mortgage in place that you don't want to, or can't change. 
The interest rates on a second mortgage can be cheaper than a credit card or personal loan, which makes it a more cost friendly option, but remember, you're still borrowing against your home, and if you can't make your repayments, you put your home at risk. 
---
#4. Savings
Digging into your savings is a sensible option if you have enough funds saved up, as it means you won't need to borrow any money to realise your dream extension. 
Plus, with interest rates so low, having your money sitting in savings isn't giving you the best rate of return at the moment. So investing your hard earned cash into your home could see you reap a higher rate of return (on both your savings and the sale price) should you ever sell your home. 
The downside is that once you've put your savings into your house, you can't get them back out very easily. So be sure that you can afford to outlay a large lump sum of money before you commit to it. And think how long it will take you to save up that money again, should you need it. 
Weigh this option up against the cost of borrowing money and see if it is worth it in the long run. Also, check with your bank that you have access to your cash as some savings accounts, to give you a higher rate of interest, restrict your access to your money. 
---
#5. Credit card
If you have a credit card with a high enough credit limit, paying for your extension with credit could be an easy way to finance a small or medium sized extension. 
Plus, if your credit card offers rewards for spending on it, such as air miles, or shopping vouchers, just think how much you could get in return for your extension. 
And credit cards offer protection for your money under Section 75 of the Consumer Credit Act, which might be essential should something go wrong during the project.
If you're going to take out a new credit card to fund your project, make sure you choose one with a 0% introductory rate so you don't get hit with high levels of interest straight off the bat. 
And remember, just like extending your mortgage, think carefully about whether you can afford repayments before you choose this route, because it could end up costing you more than you budgeted for. 
---
#6. Unsecured loan
If you don't want to jeopardise your living arrangements by using your mortgage to pay for your home extension, how about an unsecured loan? 
Your suitability for an unsecured loan is based on your past credit history, and if you have the credit rating to support this option, it could be a good route for you. 
An unsecured loan means that you don't have to put your house at risk, you don't have to worry about astronomical credit card charges and you don't have to dig into your savings to fund your conservatory.
If you hunt around for a deal, you might even be able to find an unsecured loan with a fixed interest rate, with a repayment term of up to 5 years. 
---
Finally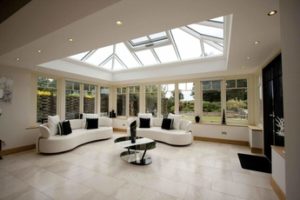 An orangery, a conservatory or a garden room are fantastic home extensions that really add value to your home. So if you're struggling to justify the cost of building an orangery or conservatory, put your mind at ease that you'll be spending your money wisely, and have an estate agent come round to give you their professional advice about your home's current value and what value an extension could add.
An orangery will increase the amount of natural light entering your home, it will give your family extra living space, you could turn it into a playroom for the children, a dining room to eat inside under the stars, a piano room to tinkle in, or a room to paint in.
There are so many ways you could use this extra space, the choice is yours. The point is, with interest rates as low as they are, financing an orangery or conservatory has never been so affordable. 
However you choose to pay for your home extension, with careful planning and budgeting, you could see your dream orangery or conservatory become a reality very soon.