What are the differences between glass and polycarbonate conservatory roofs?

What are the differences between glass and polycarbonate conservatory roofs? Investing in a new conservatory or orangery? What roof material should you choose?

What are the differences between glass and polycarbonate conservatory roofs?
When deciding to install a conservatory or orangery extension in your home, there are a number of factors to consider.
Not only will you be thinking about the size of your conservatory, whether you will need to obtain planning permission, who will install the conservatory, your budget, the direction your conservatory will face and your budget, another important factor about choosing your conservatory is the material it will be made from.
Here at Orangeries UK, we design and manufacture hardwood conservatories made with glass roofs since we feel that glass roofs provide the best quality for conservatory materials.
---
Why glass?
You may be wondering why we do not offer polycarbonate conservatory roofs and have opted to provide glass roofs instead.
While polycarbonate conservatory roofs are considerably cheaper than glass roofs, the advantages of glass roofs heavily outweigh this saving.
Many people are drawn to the price of polycarbonate conservatory roofs in the initial installation period, however, these people fail to consider the ongoing costs polycarbonate conservatory roofs can cause over glass.
---
Take a look at why glass conservatory roofs are better
| | |
| --- | --- |
| Glass conservatory roofs are far more energy efficient. It is generally a well-known fact that poorly constructed conservatories or those with low-quality roofs and windows are less energy-efficient than when high-quality glass is fitted in an extension. Glass conservatory roofs and windows can help keep you warmer in the winter, without the need for expensive heating appliances. | Polycarbonate roofs are not as energy efficient as glass roofs. While you can have solar panels installed to help heat the conservatory, this is most likely to make the extension too warm in summer. Additionally, the fact that the conservatory would be less energy efficient would add to the overall energy cost of your home. |
| Glass is far more weather resistant. You'll see less scratches overall in good quality glass conservatory roofs in comparison to polycarbonate roofs. You'll also have far fewer problems with UK winter weather. | Polycarbonate roofs are less durable against harsh weather conditions. This means that ongoing maintenance costs may be higher in conservatories with polycarbonate roofs. The risk of leaks and damages is higher too. |
| Glass is more elegant to look at. It is generally agreed that glass has a better overall aesthetic than polycarbonate which is a cheaper alternative. | While polycarbonate roofs are more affordable, they don't necessarily look as visually pleasing as glass conservatory roofs and windows. |
| Glass works much better in line with solid hardwood and timber. It seems a wasteful choice to invest in a gorgeous hardwood conservatory and then pair it with a cheaper material, like polycarbonate, instead of a good-quality glass. | Polycarbonate conservatory are more suited to budget UPVC conservatories which are a more affordable option over hardwood. |
| Glass conservatories add more value to a home. While you'll spend more on glass over polycarbonate, glass conservatories undoubtedly add more value to a property over polycarbonate alternatives. | Polycarbonate conservatory roofs may be cheaper to purchase, but won't necessarily add as much value to a home over high-quality glass options. |
---
Find out more about our orangeries and conservatories at Orangeries UK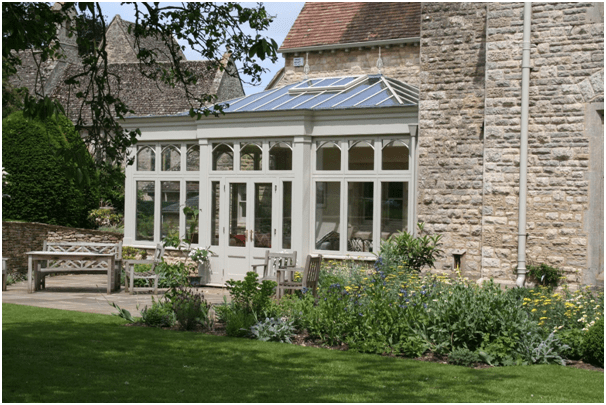 No matter whether you opt for an orangery or conservatory, we can assure you that you will be investing in a valuable, durable product with Orangeries UK. Our wooden extensions are made to nothing but the highest quality.
Browse our range of excellent products on our website and feel free to contact us with any questions you may have.