What Are The Advantages of a Plastic Conservatory Roof?
Purchasing a conservatory or orangery is a significant investment. Choosing the materials that you want your conservatory or orangery to be built from isn't a decision to be taken lightly. 
As a nationwide supplier of high quality orangery products, every conservatory and garden room that we manufacture in our dedicated joinery is made from quality, long lasting hardwoods and softwoods. 
But what about the conservatory roof? What materials should that be made from?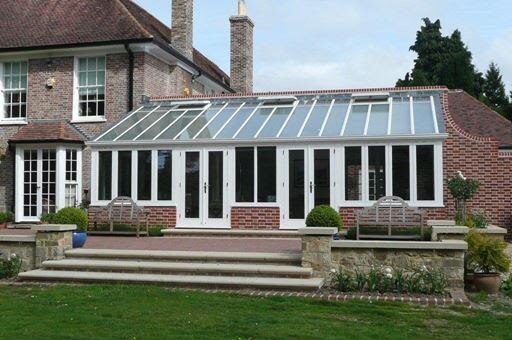 While orangeries are designed and constructed with a perimeter roof or a suspended roof lantern, conservatories can have a number of different styles of roof, constructed from different materials. 
So if you're wondering what material will work best for your conservatory, or if you need to re-roof your conservatory, you'll need to know what conservatory roof material options you have. 
Conservatory Roof Materials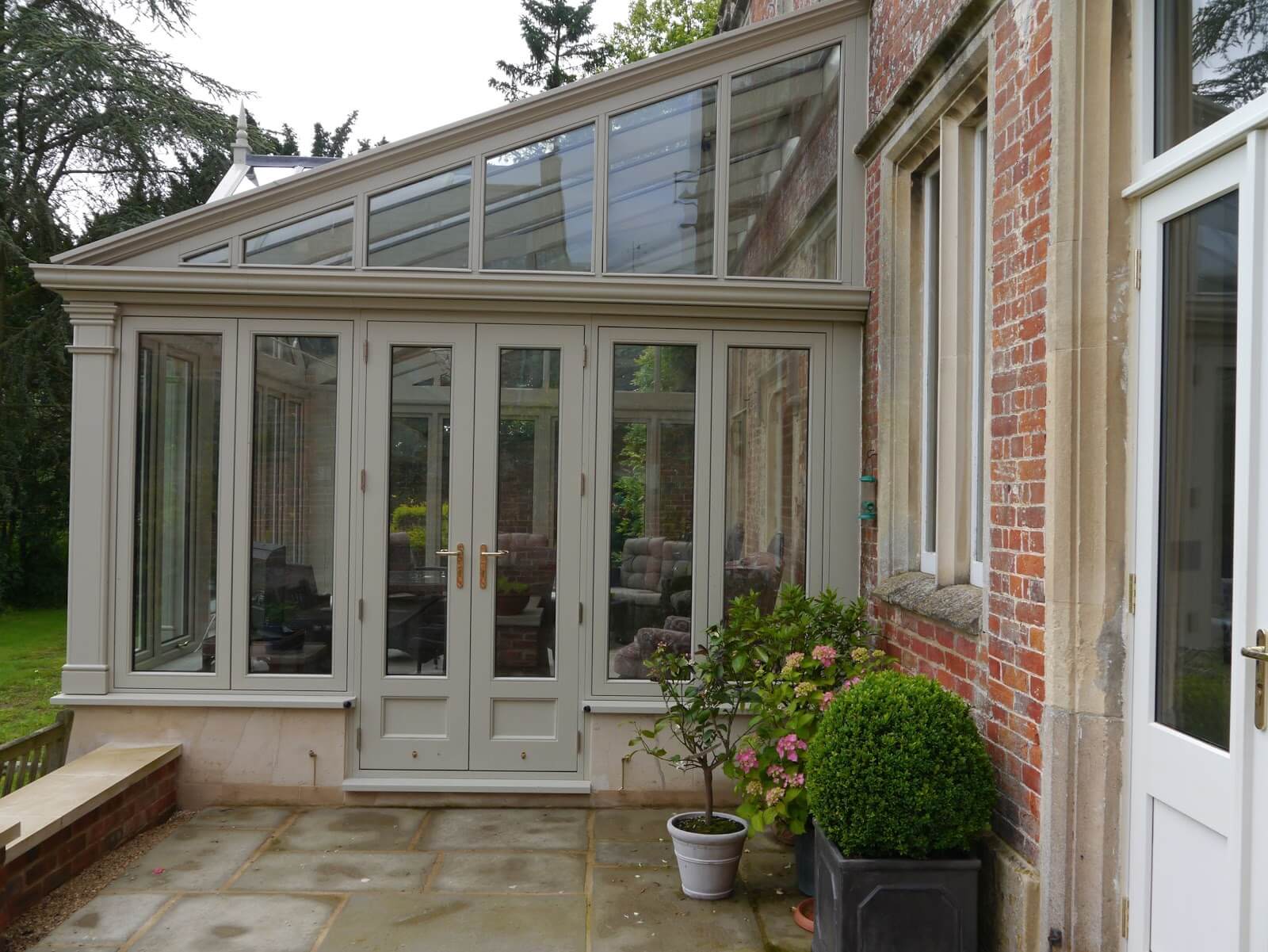 There used to be only one roof option for conservatories – polycarbonate. 
But this early plastic roof was not designed for the long term. Common complaints for a conservatory with a polycarbonate roof was that it leaked, it overheated, it had cold spots and it had very poor sound insulation. 
But recent advances in conservatory roof material technology means that these issues are a thing of the past. 
In fact, there is a whole raft of conservatory roof materials that your conservatory could be constructed from, including: 
Glass
Roof lantern
Tiles
Modern polycarbonate
Glass conservatory roof
A glass conservatory roof will provide a sleek finish for your extension, available in any size or shape and constructed from strong aluminium frames which hold the glass panels in place. 
These glass and aluminium units are thermally efficient. Gone are the days of a glass roofed conservatory being boiling in the summer and freezing in the winter. A glass conservatory roof is a high performance roof that can reflect the sun's heat and glare, meaning you can use your conservatory all year round. 
However, a glass roof comes at a premium. 
Roof lantern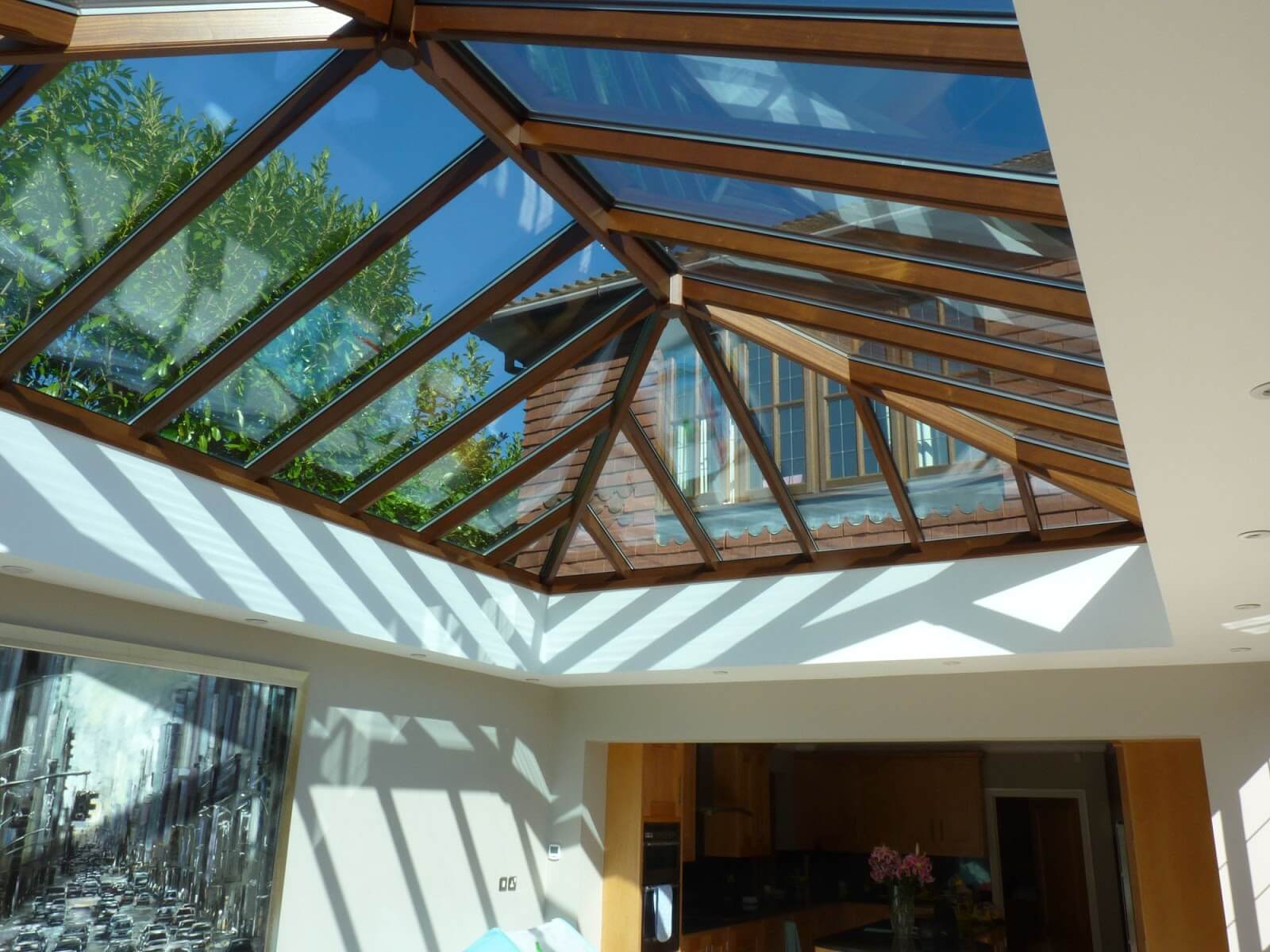 If you've had an orangery installed, you'll likely opt for a roof lantern to finish the extension off beautifully. A roof lantern sits atop the room like a crown, providing a focal point and allowing light to flood even the darkest of extensions. 
Roof lantern designs are incredibly flexible, and you can choose the shape of yours, the colour of the frame, the pitch of the roof, even the glass type. 
But again, a roof lantern comes at a cost. 
Tiled conservatory roof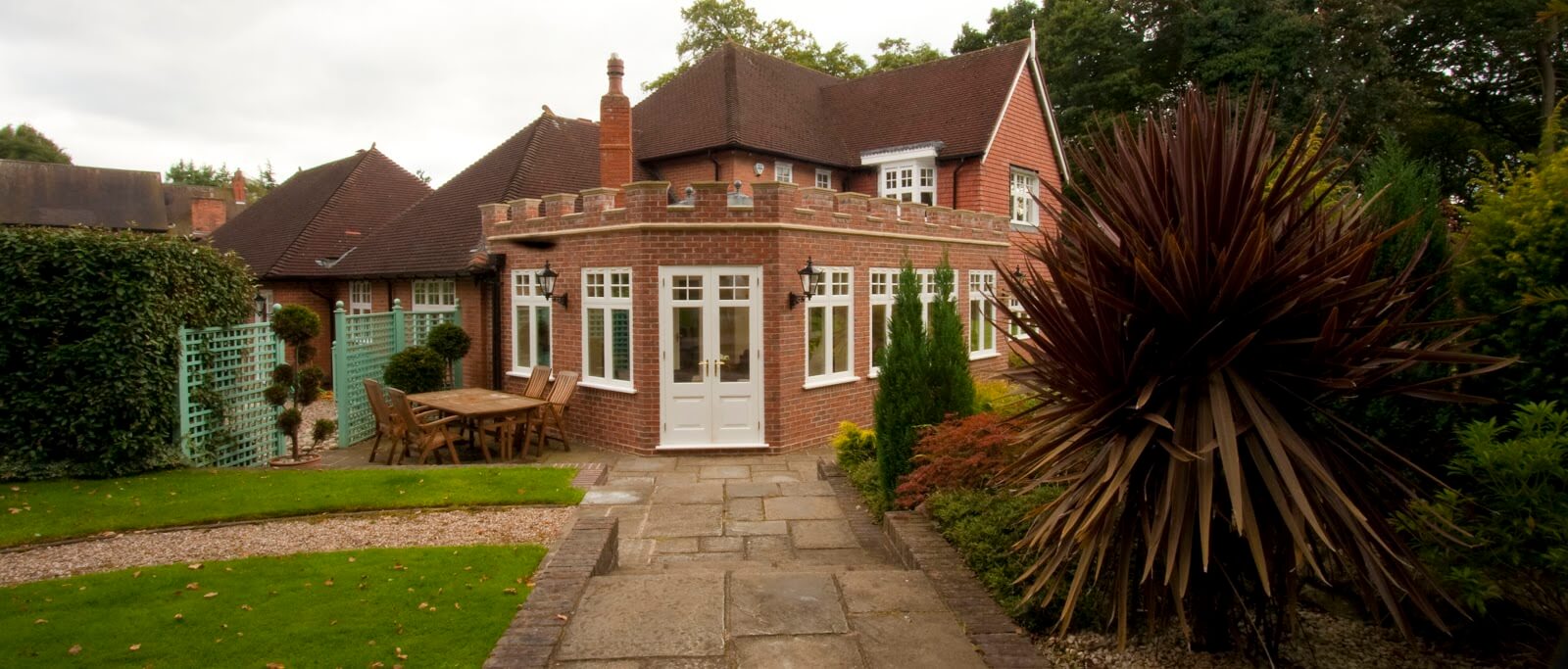 Some conservatory owners opt to have a tiled conservatory roof to mitigate against the issues of old – those associated with an aging polycarbonate roof. But the point of a conservatory is to construct a sunroom that can be used all year round, which lets in the maximum amount of light possible. 
And a tiled conservatory roof, while being naturally thermal efficient and able to fit in with most architectural designs, by their very nature, prevent the sun from streaming through the roof. 
Plus, tiling your conservatory roof won't be cheap.
Polycarbonate conservatory roof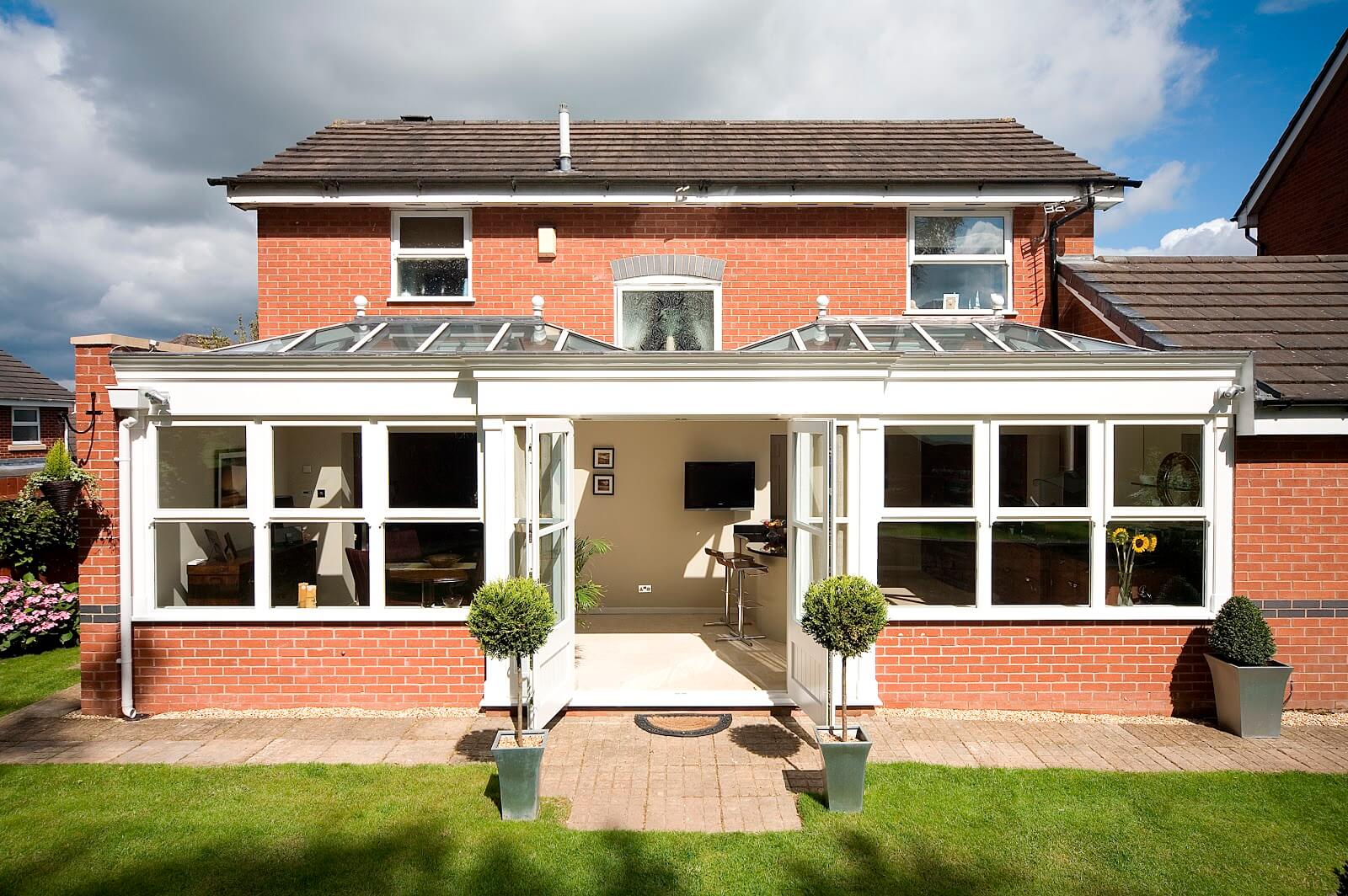 Polycarbonate plastic is a transparent polymer that is extremely impact resistant, frequently used to reinforce bullet-proof glass. 
A modern polycarbonate conservatory roof is made up of multiple layers of clear or tinted hard plastic, with air pockets between the layers that work to trap warm air, providing a layer of insulation in your conservatory roof. 
Lightweight and incredibly stable, a polycarbonate conservatory roof isn't just quick to install, it's durable and can hold its own thermally when compared to other roof materials. 
Modern polycarbonate conservatory roofs can have solar reflective inserts that prevent 99% of UV rays from getting through, reflecting and reducing glare. 
And best of all, constructing your conservatory roof from polycarbonate is a very affordable option.
What are the advantages of having a polycarbonate conservatory roof?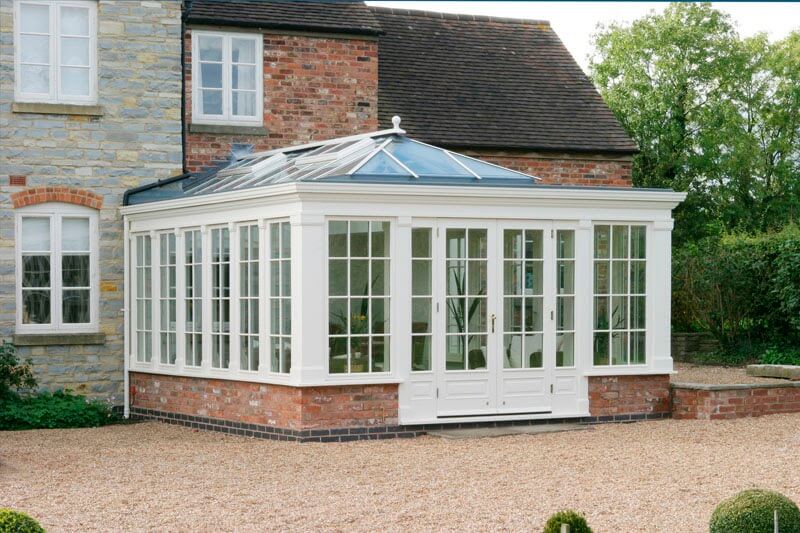 Polycarbonate conservatory roofing has many incredible benefits, including: 
Strength – polycarbonate is used in the manufacturing of impenetrable windows and police shields because of its strength, making it the perfect material for the roof of a conservatory as it is long lasting. 
Long life expectancy – polycarbonate has a life expectancy of around 25 years. So if you're looking to re-roof your conservatory, or for a material that requires minimal upkeep, plastic is the one for you. 
Weather resistant – modern polycarbonate ensures the sun's UV rays don't penetrate to the room below, damaging furniture and skin alike. The composition of polycarbonate also means that it can hold its own when faced with changeable weather conditions (such as we experience in the UK), and can withstand high and low temperatures, making it ideal in the summer, as well as in the rain or snow. 
Easy to work with – polycarbonate sheeting is easy to shape, and easy to work with, fitting any design of conservatory roof, no matter how unique your roof shape. 
Affordable – polycarbonate is the most cost effective material for a conservatory roof. Expect to pay between 3-5 times less for a polycarbonate roof than you would with a glass roof. And because they can last up to 25 years, you don't have to worry about needing to replace it again soon, which is often the case when you choose cheap materials. 
Low maintenance – polycarbonate is like most plastics in that it is very low maintenance. It's easy to keep clean, it doesn't get plant life growing on it like a tiled conservatory roof does, nor does it require frequent washing to remain clear, unlike glass panels. And any dirt that does build up is not instantly apparent, which can be the case with glass roofs. 
Replacement polycarbonate conservatory roof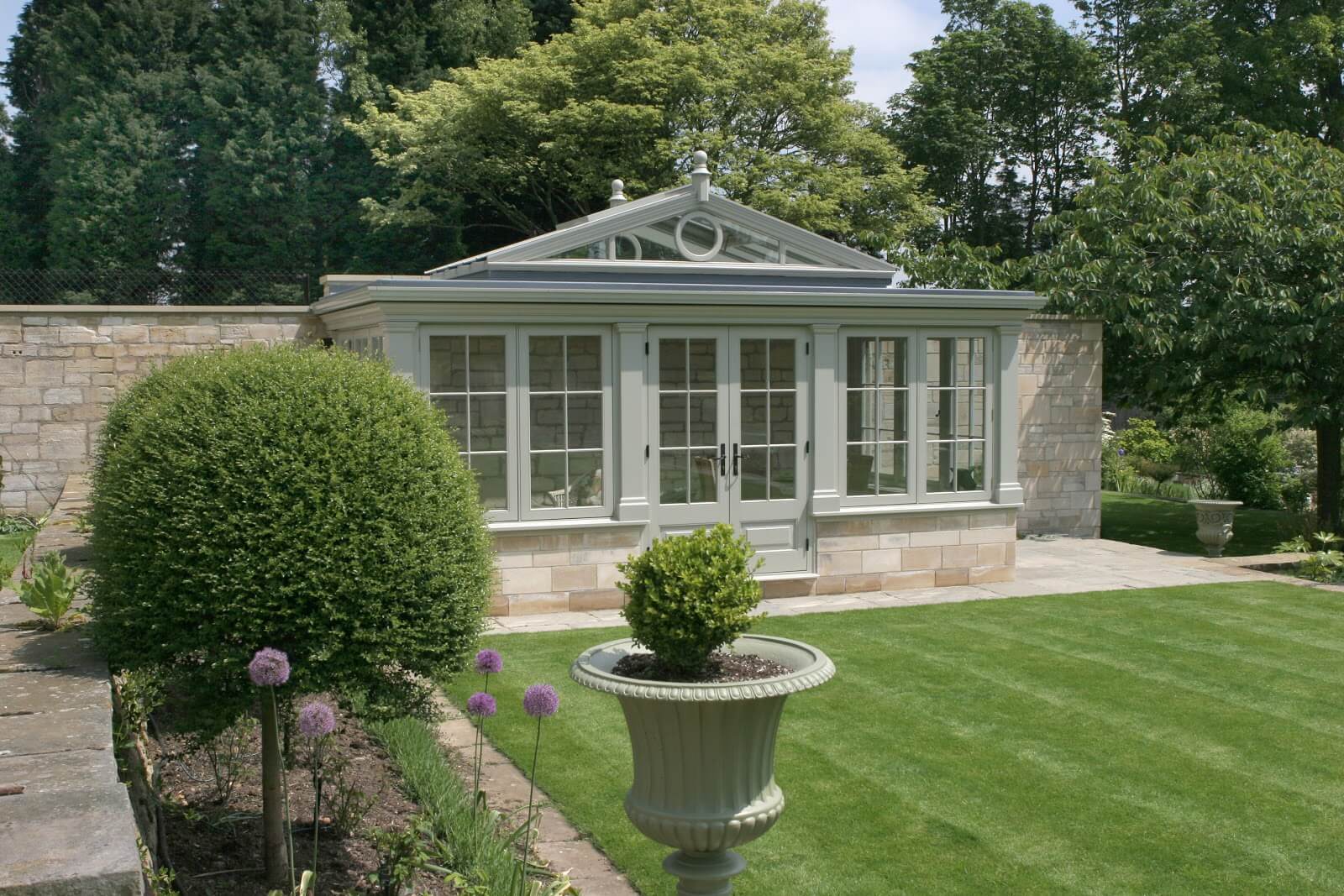 Has your conservatory roof come to the end of its life? Do you need a replacement conservatory roof? Then you should consider a replacement polycarbonate conservatory roof. 
Polycarbonate is not only the cheapest material to replace your conservatory roof, it's one of the quickest and easiest to install, meaning your conservatory isn't out of action for very long at all. 
And with the advances in polycarbonate technology, a replacement polycarbonate conservatory roof will last you a long time. 
Finally, no matter what design your conservatory is, lean to, Victorian, Edwardian, or wood, a polycarbonate roof could be the best roof for your conservatory.