Dual-purpose P Shape for Style and Space!
A dual-purpose Orangery is a design that has been fitted with glass panels on the sides, which have been angled inwards and upwards, designed to allow light to flood in during the daytime and reflect it edge to edge. The glass roof provides much needed light for plants as well as providing light during dreary days. It also has side walls made from wood or brick, which help maintain warmth in winter while cooling down during summer months with cross ventilation.
Dual-purpose Orangeries are said to be a 'win-win' as they provide all year round use, through delivering high levels of daylight for those who work from home during the day and as an extra room for those who like entertaining at night, simply need the space to relax, or to have an area that that kids can entertain themselves.
The P shape design is a combination of the Victorian and Edwardian styles. An excellent choice for the larger home and for adding shape and definition, while aesthetically blending in with the rest of the house structure.
What are the benefits of a P Shaped Orangery?
P shaped orangeries are beautiful additions to homes. If you're not happy with the appearance of your house, this might be the change that you're looking for!
P shaped orangeries allow more natural light into a room which can help create a calming effect, a feeling of serenity. Sunlight from the windows on one side of the orangery reflects onto another side, and this can warm up an otherwise cold space on sunny days in spring and especially summertime.
Another benefit is that it could offer a new space for some nice indoor gardening – something more intimate, perfect for making plans with family or friends who come to visit you. It can also be used as an entertainment area during parties and gatherings in your home
This particular Orangery shape is becoming increasingly popular as people recognise the benefits that it offers.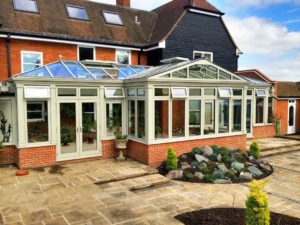 Characteristics of the P Shape
The P shaped orangery offers you, as the homeowner, a highly functional and versatile style.
Because of the unique shape of the structure, the Orangery actually extends in two different directions. This is a functional bonus, as the space can be used for two separate living areas. These days, most families utilise the longer part of the P shape as a lounge or dining area, with the rounded part being allocated as the designated play area for the children.
The P-shape orangery creates a versatile style. This is because the conservatory extends in different directions. The P-shape orangery is, therefore, ideal for using as two separate living areas. Modern families often use the longer part of the P-shape style as a lounge or dining area, with the rounded part being used as a children's play area.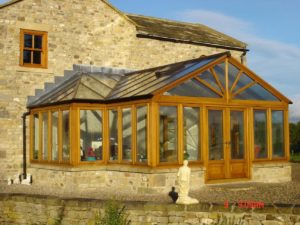 What is the cost of a P Shaped Orangery?
Due to the unique shape of this style, they tend to be a little bit more expensive than your traditional designs. P-shapes often require larger proportions, so are better suited for larger detached properties, giving an impressive result.
Due to the many factors involved in pricing out such a design structure, it's advised that you get in touch with us, where we come out to your property, assess your requirements, and then quote accordingly. You are welcome to contact us for a consultation in your area.
Modern Design & Quality Engineering
We understand that as a customer, you want to be sure that any Edwardian conservatory you purchase from us will have security features. All of the materials we use are high-quality, and our experienced team never cut corners.
Every part of your conservatory, including the windows, door and pitched roof, will protect your home from intruders. If you'd like to know more about our materials, please feel free to contact us, and our friendly team will be able to answer any questions.
Book a Free Consultation
There's no time like the present to give your property the high-quality extension it deserves. With so many designs and wood types available, we're happy to discuss how we can help you to create some extra space for those colder months.
Whether it's questions about French doors, window glass types and styles or double glazing, our team of experts can help you to create your fully bespoke orangery.
Get in touch today to book your free consultation. We look forward to discussing our competitive prices and traditional or modern style options.